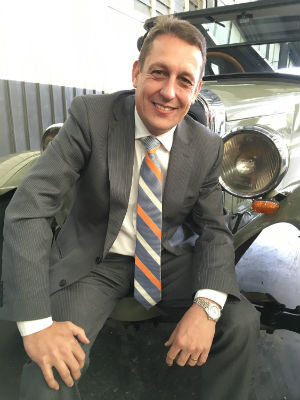 Managing Director and Principal Consultant of Literally Brilliant Pty Ltd, Michael Neale, has been appointed as Chair of the Bay to Birdwood. Michael is proud and honoured to have been given the opportunity to work with such a fantastic team of volunteers and passionate people on this iconic event.
Michael has grown up in the motor industry with his family owning Paradise Motors Mazda for the last 60 years. He possesses a passion for motor cars that sees him driving his MGB in the Bay to Birdwood Classic and the family's Willy's Overland in recent Bay to Birdwood Runs.
The Bay to Birdwood has been described (on its own web site) as "the largest, continually held motoring event for veteran, vintage and classic vehicles held anywhere in the world …."
Certainly, the Bay to Birdwood has become a highlight of the Adelaide social calendar since its inception in 1980. Thirty six years later it still captures the imaginations of old and young car lovers alike with thousands of spectators lining the route from the suburban beachfront across the city and into the nearby Adelaide hills to the National Motor Museum in the town of Birdwood.
"The Bay to Birdwood has the potential to be recognised internationally as one of those 'must do' events for any real car lover", says Michael Neale. "I understand that the event does attract interstate as well as the occasional international entrants but there is potential to grow these numbers in the future."
The Bay to Birdwood is organised by the Bay to Birdwood Run Committee Inc, comprising of the Federation of Historic Motoring Clubs of South Australia and the National Motor Museum (The South Australian History Trust). The Bay to Birdwood seeks to provide the historic vehicle community with the best historic motor vehicle street run in the world with a genuine focus on the enjoyment of the entrants.
"I think that if you are a car lover, anywhere in the world, you should do the Bay to Birdwood at least once in your life", say Michael Neale. "But be warned, once you do, you will want to do it every year!"