Marketing Lessons from Wisden and Whitakers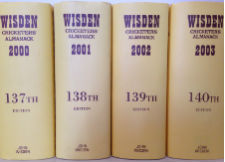 Our Principal Consultant was thinking about what marketing and business books he would recommend to an aspiring young marketing graduate based on the most influential books in his own professional development. He pondered this carefully and scanned his book case. He instantly thought of "Corporate Religion" by Jesper Kunde.
As he looked further, he noticed his collection of Wisden Cricketers' Almanack volumes and contemplated if they should sit in a different section of his bookcase, next to the Whitaker's Almanack, the reference book describing key aspects of UK society. As he pondered this, he thought of 5 lessons from Wisden and Whitakers.
If you would like the full story, click here to download the paper: Marketing Lessons from Wisden and Whitakers