Premium ice-cream and gelato manufacturer Gelista has announced that it has appointed Blue Cow as its exclusive distributor in WA. The announcement follows the recent successful launch of the 570ml Gelista Jar consumer range and the appointment of Blue Cow Australia as distributor in Western Australia.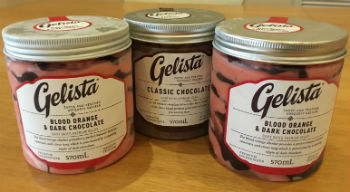 "There is a growing consumer demand for distinctive premium ice-cream and gelati products across Australia," says Peter Cox, Managing Director of Gelista. "Being a premium product, we are really excited to be working in WA with a company that is renowned for bringing premium quality cheeses to the restaurant and premium retail sectors for over 18 years."
Blue Cow has grown to be a significant player in the premium food business in WA building on their strong cheese foundation but expanding into other premium and artisan food categories. With an exceptional reputation for expert knowledge in cheese and dairy products, as well as an unparalleled commitment to customer service, Blue Cow now provides premium products to 600 food service and retail customers throughout the state.
"We are pleased to be working with Gelista," says Nick Bath, Managing Director of Blue Cow. "It is important that we find and work with premium brands, like Gelista, so that we can build on our well established reputation as the fine food experts."
The Western Australian market has characteristics that make it unique. Clearly there are synergies between its premium food and wine culture and the premium food brand values of Gelista. There are a number of independent supermarkets focusing on quality food offerings to differentiate themselves from the low-choice, budget offerings of national competitors. These supermarkets demand high quality alternatives and that is certainly what Gelista can deliver.
Gelista has a focus on using ingredients with "Terroir"; a sense of quality and place that make them distinguishably different. This is combined with genuine artisan crafting techniques underpinned with an obsession with excellence and quality to deliver a dense product with an elegant mouthfeel. Gelista works with leading chefs making premium quality and bespoke products for the restaurant trade but uses this experience to inform the development of supermarket products that consumers can enjoy at home. At the end of the day, the focus is on a taste and texture that's, as they say, uniquely Gelista.
"This is the next step forward for Gelista and we are really excited to be taking that step with a company so well regarded as Blue Cow," says Peter Cox. "This appointment of a distributor in WA is just one of a series of initiatives that we are taking this year to make our brand a stand-out brand."
Blue Cow has already secured distribution in the following stores in Western Australia:
2nd Avenue Supa IGA
Albany IGA
Ashfield IGA
Basil's the Food Lovers Choice
Brighton Road Food Market
Broadwater IGA XPress Busselton
Bull Creek IGA
Bunbury Farmers Market - FREEZER
Capel Fresh IGA
Carine IGA
Como IGA
Doubleview IGA
East Perth IGA
Esperance Supa IGA
Farmer Jacks Currambine
Farmer Jacks Landsdale
Farmer Jacks Subiaco
Fresh Provisions Bicton
Fresh Provisions Mount Lawley
Gwelup Supa IGA
Hilton Supa IGA
Hudson and Hughie
Jacks Whole Foods Claremont
Jurien IGA
Kinross Supa IGA
Leederville IGA
Limes Fresh
Marmion Street Fresh & Gourmet
Maylands Park IGA
Millpoint Road Fresh
Mosman Fresh IGA
Mosman Park IGA
Mount Hawthorn IGA
Newys Vegie Patch
Occy's Dunsborough
Onslow General Store
Peaches Fresh Food Market
Pemberton IGA
Queens Supa IGA
Re-Store Leederville
Reeves On Campbell
River Fresh IGA
Rossmoyne IGA
Rustico Gourmet Grocer
Scutti Markets on Angelo
Sisters Supa IGA
South Fremantle IGA
Stirling IGA
Swanbourne Market
Taylor Road IGA - Nedlands
The Black Truffle
The Downs IGA
The Good Grocer
The Herdsman
Waterford Supa IGA
Wellington Village IGA
Wembley Supa IGA
Winthrop Gardens Supa IGA