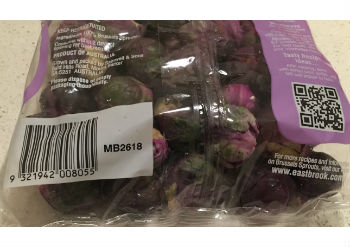 Literally Brilliant is very pleased to have worked on the paddock identifier project with Eastbrook Vegetable Farms.
"This is a great innovation from Eastbrook Vegetable Farms", says Michael Neale, Managing Director and Principal Consultant at Literally Brilliant. "They have listened to their customers and have taken action on what they have learned. People increasingly want to be able to trace their food from paddock to plate. This is what the paddock identifier project is all about".
Literally Brilliant worked with Eastbrook Vegetable Farms to understand the consumer need and develop a simple innovation to satisfy that need. Customers can buy Brussels Sprouts and Kalettes packed in Eastbrook Vegetable Farms packaging and know exactly where those vegetables were grown. A small identification alpha numeric code near the barcode on the packet can be entered into a search facility on the Eastbrook Vegetable Farms website. The customers will then be able to see exactly where on the Eastbrook properties their vegetables were grown. "This is a great example of Eastbrook Vegetable Farms taking up a leadership position in the marketplace", says Michael Neale.
See the full Eastbrook Vegetable Farms media release here: Paddock Identifier Puts Authentic Traceability on the Table (paddock to plate)