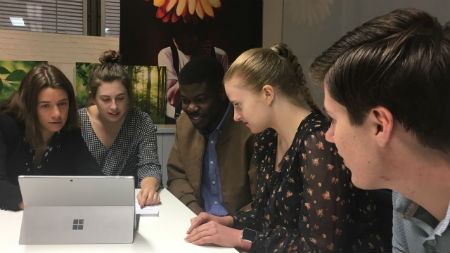 It was just before 5:30am in the boardroom in Adelaide. It was 8pm in Stockholm and 2pm in New York. I thought it was going to be impossible to find a time when we could meet but, as it turned out, it seems to work if you put your mind to it.
People in Adelaide gathered around my laptop as I clicked the Zoom meeting link.
Soon, I was joined by an Emeritus Professor from a surf beach on the south coast. Then I was joined by directors from Detroit and Connecticut in the USA, an advisor from Stockholm in Sweden, and finally an advisor from New York City.
I was asked to put together an Advisory Board to help drive thought leadership for Acoufelt. I have been very fortunate because some amazing people have heard the Acoufelt story, wanted to be part of this adventure and agreed to serve in this capacity. They are all leaders in their field. This was the first meeting. It was excellent.
There is a well-used saying that "if you are the smartest person in the room, you're in the wrong room". This quote has been attributed to many sources including Michael Dell, Richard Tirendi and even Chad Stahelski. However, a search online suggests that the most frequently used attribution is Confucius. (At this point I must express some concern because, along with William Shakespeare and Oscar Wilde, Confucius is often miss quoted or incorrectly attributed.)
I believe that I make a significant contribution to the businesses of all of my clients. I help them to understand what makes them brilliant in the minds of their customers, how to articulate that brilliance in a narrative or story form and then how they can structure their business to deliver that brand promise with literal focus. Recently, in my numerous Advisory Board roles, I have been helping companies drive thought leadership and long-term thinking in their business. Undoubtedly, I make a significant contribution to the business but rarely do I feel as though I'm the smartest person in the room.
On this occasion, with the Acoufelt Advisory Board, there was no doubt. I was not the smartest person in the room. In our global virtual room, we had some amazing minds. It gave us great clarity and I have no doubt that Acoufelt will continue to challenge traditional thinking around acoustics in working, living and learning spaces. It was an absolute privilege to have been part of that experience.
To read the paper in full, click here: On Not Being the Smartest in the Room